Every fiber of
your being.
Infrared active technology is designed to help recycle the energy your body releases. Infrared Athletic Gear contains a patented blend of 13 active minerals that never wash out. Bio-ceramic minerals capture this heat energy and turns it into infrared light which is a form of energy that the body can use. This acts as a catalyst for natural biological processes resulting in a temporary increase in blood flow at the site of application in healthy individuals.
---
---
Recycle your Body's Energy
Our product contains IR emitting ceramic particles. It temporarily promotes increased local blood flow at the site of application in healthy individuals!
Infrared active technology is designed to:
Supports thermoregulation.
Increase/More Energy.
Promotes temporary increase in blood flow.
Better/More Endurance.
Faster/Quicker Recovery.
Increase/Enhance/More Speed.
Improve/Increase Strength.
Recycle Human Energy.
Enhance/Increased Performance.
Increase/More Stamina.
Supports cell Function.
See for yourself how effective infrared technology is!
Subscribe to our Newsletter
and Receive a FREE
Pair of Energy Socks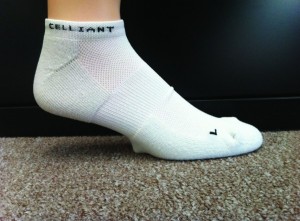 The bad news about this winter is it was crazy cold, the good news is that I have infrared activated gloves. I put them on whenever I go out because I don't like cold hands and it is really bad for the skin on your hands to get dried out from being cold. Your hands won't get cold if you have your infrared activated gloves on. In extreme conditions like snowshoeing or skiing, I wear the infrared activated gloves as liners under snow mittens. Dried out hands can really age you and infrared gloves are an easy fix.They may not be the flashiest gloves but they are the warmest and that is way more important in cold weather. Thanks for making such a great product!

Everyone that has been wearing Infrared Reflexa Socks loves them!!! They are absolutely the best socks that have ever been made. Every pair of Reflexa socks comes with a one year Manufacture Warranty for any defects. It's one of only a few socks that meet the rigid requirements to achieve the Seal of Acceptance from the American Medical Association.

I have never been able to run so fast for so long in my life! Infrared Athletic wear keeps my body running smoothly, eases the pain that comes with long distance running, and I never seem to hit the runners wall. I just keep going until I finish my goals and I seem to always be beating my previous times. I now tell all of my running mates that Infrared Activated products rock, they are more than worth the investment.

We lead complicated lives. First thing in the morning I do a core fusion work-out with a ballet barre and to keep it effective the instructors have to vary the work-out. I am from the generation that believes no pain no gain so if I feel a twinge my first reaction is great…this is working. It might be tightening my abs but it is definitely irritating my sciatica. Later in the day whether I am walking a trade show or making site visits with clients, again I am on my feet and irritating my back even further. Before I had a Baxsaver, I would barely be able to handle the pain before I got home. Now I am more confident that if it acts up, I know minutes after I put on the belt I can anticipate relief. I am grateful.

The most unique linens that I've ever experienced!

After being unexposed to extreme cold for over 15 years of my life, I had forgotten what types of clothes were suitable for these punishing temperatures. I was provided the opportunity to utilize the Infrared Activated product and on Day One of the skiing adventure, I double-layered most of my clothing. I found that I was too warm, even in these below zero temperatures. On Day Two, I played it smart and chose to wear one layer. Wearing one layer of the Infrared Activated product was definitely sufficient enough that I was comfortable, not excessively warm and, most importantly when in these conditions, I was dry.

As a photographer and graphic designer for over 17 years, my hands are always in motion. When I started having severe pain in the knuckles in my right hand it was a big scare because my hands are so important to my work. When hearing about Infrared Activated products, I was not a believer. But, after being in so much pain I gave the product a chance. I tried the hand/wrist band after a few hours a day for a few weeks, my pain went away and hasn't returned. It has been about 8 pain free months now. I also had a car accident 2 months ago where I was rear-ended and the MRI shows that I will have permanent damage. I was having bad neck pain and daily headaches. I used the Infrared Activated neck blanket a few hours of the day for a few weeks and once again I am doing better. No headaches and the neck pain is going away. After experiencing Infrared products for myself, I am now a believer.

The difference I feel when wearing a product made with celliant is encouraging and exciting. Having clothing that aides my lungs by helping to increasing oxygen levels, gives me the opportunity to continue doing the activities I enjoy with more ease. Working with John at Energy Textiles has introduced me to more products that enhance the life of a person dependent on oxygen.

I do wear them a lot and have been feeling energized and upbeat whilst doing so (Apparently I'm not the only happy Energy Textile camper to report this). The tops and socks feel beautiful against your skin are are super lightweight, quick to wash and dry, which makes them the active jet setter's best friend.