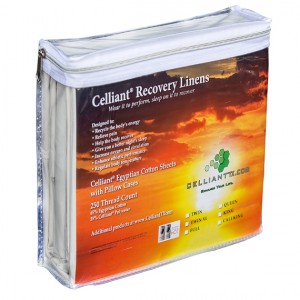 Energy Textiles launches Celliant Bed Sheets, designed to be thermo-regulating and circulation-enhancing – revitalizing your body, allowing you to get a better nights sleep.
Celliant, the world's leading responsive textile, can now be found in bed sheets—Celliant Revitalizing Bed Sheets and Pillowcases. Included are all the benefits of wearing Celliant: clinically proven additional circulation and increased oxygenation, and balanced body temperature; which can lead to enhanced sleep quality, faster healing and pain relief, enhanced athletic performance, and overall wellness.
Celliant is a polyester yarn with embedded minerals which will never wash out, which capture body heat and transforms it into infrared light. Infrared light is used by the body to increase energy-producing and circulation-enhancing nitric oxide, which cells' energy factories-the mitochondria-use to produce more energy. Infrared light therapy is used in many doctors' offices to relieve pain and stimulate healing for conditions such as diabetic neuropathy, carpal tunnel syndrome, arthritis, etc.
Celliant bed sheets, mattress protectors, cushions, and pillows can extend this therapeutic process, making the home, or wherever you have Celliant, a place to revitalize. This is truly a revolution in textile technology!
Celliant Revitalizing Bed Sheets with Egyptian Cotton are available online at EnergyTextiles.com.